Who we Are – Hosts, Producers & Contributors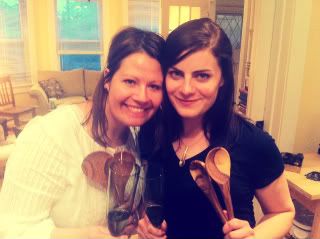 Naddine Madell-Morgan (Producer, Co-Host)
What can I tell you about me? Hmmm. Where to start? I'd like to say this came about because of my Jambalaya, but I'm not going to give myself that much credit. I do love to entertain people in my home, however. Often I am putting together some sort of cheese or wine tasting, baby or wedding shower, social event, a dinner out, a dinner party, etc. For example, not two months after moving into my house I cooked Easter dinner for 40 people. Yes, I did that.
I try to eat, live and love to the best of my ability and I want others to do the same. Food makes up a huge portion of my entertainment budget, and I feel that people should enjoy food. It should not seen as point of stress or anxiety. I mean, what did people do before TV and internet? Sure, they worked hard, but then how did they entertain themselves? There is so much literature centered around getting together to eat, drink and be merry. So, I wonder … when did we, collectively, veer off that track? Healthy communities are built around food.  Good, quality and healthy food is a human right NOT a privilege.
We live in an interesting climate where it's cold most of the year, and when it isn't cold it rains. We don't have the heat, humidity and sunshine of California or Mexico, but what we do have is a long history of hardy plants and animals, and a solid agricultural industry. We can grow some amazing stuff here, and everyone can access good quality and fair food, it is just a matter of being creative and wanting to.
Personally, I feel that if you are not fully satiated – physically, mentally and emotionally – you cannot be the best part of your community that you can be. Being part of your community contributes to a healthy, fun-filled life. It doesn't matter if you are a student or a CEO, if you have a single pot on your balcony or 40 acres, we are all part of this community and each of us has something to offer. So let's talk about it over a glass of wine or a cup of tea. And let's get really healthy about feeding our community.
So – did that tell you anything about me? Not really, other than I am super passionate about living well, and food is a big part of that – N
Amanda Arbuthnot (Producer, Co-Host) Season 1 (March 2011 – May 2012)
When I tell people I've been in University for the last six years, they are normally very impressed – until I tell them it's been to complete a four year Bachelor of Arts.  When each semester began I was faced with a difficult choice: tuition or travel?  More often than not, travel and good food won.  I'd like to believe that these experiences made my education more well-rounded, but in all honesty, the most important lessons I learned were the various ways to deep fry foods (fries with mayonnaise in Belgium, Mars bars in Edinburgh, cheese in Prague, everything in America).
I also learned that no matter how good or bad the food you're served, everything tastes better with wine and friends.  A little butter can also go a long way in improving any meal.  My hope in hosting Spooning and Forking is to spread this message to Calgary, Alberta, and beyond.
Food is not just fuel; it is sustenance in a way that can't be measured in calories.  It is a way to bond, and share, and enjoy ourselves in a way that is a uniquely human.  More than that, it is an endlessly changing and evolving thing.  As consumers, especially in a rapidly growing city like Calgary, we have the power to shape our food community exactly as we want it to be.  For me, this means eating as many fresh vegetables as I can get during our short growing season, and as much as bread as I can bake outside of it.
Get hungry Calgary!